Category Archives: Bio News
Signed Copies of All COA Books Available at BookPeople
If you are looking for a signed or personalized copy of any Cristin O'Keefe Aptowicz book (including all seven poetry books, and both works of nonfiction), you can purchase a signed and/or personalized copy at Cristin's local bookstore, BookPeople. Click the link here for more information. BOOKPEOPLE SHIPS WORLDWIDE.
HOW TO LOVE THE EMPTY AIR reviewed in BUST MAGAZINE
"Cristin O'Keefe Aptowicz's stunning book of poetry, HOW TO LOVE THE EMPTY AIR, explores great loss at the height of great success and how we cope not only with the unexpected absence of a life, but also with the endured memories of death," begins the rave review by writer Amber Tamblyn in the August 2018 issue of Bust Magazine. "Aptowicz writes about losing her mother very suddenly while her personal and writing lives are flourishing—an experience that left her at once devastated and illuminated, reeling from shock and relinquishing herself to the tenderness of new love. These heart-cracking poems humble and haunt the reader, reminding us that with every fall life hands us, a rise awaits us on the other side." To read the full review, please click here.
How to Love the Empty Air to be released on March 20th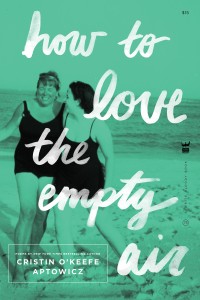 .
Cristin is thrilled to announce the release date of her seventh collection of poetry, How to Love the Empty Air: March 20, 2018th! Cristin will launch the book in LA with her pal & publisher, Derrick Brown! Tour dates will be forthcoming and will events in New York, Austin, Philadelphia, DC, Portland, Seattle, and Chicago, among other cities! Stay tuned for more details, but in the meantime, please feel free to preorder a signed & personalized copy of How to Love the Empty Air at Cristin's local independent bookstore, Austin's amazing Bookpeople
Cristin to Give Mutter Talks at University of Kansas School of Medicine (Oct 24 – 25)
Cristin is thrilled to making her Kansas debut this October. On October 24th, she'll be the keynote speaker at the 50th Anniversary Dinner of the Jager Club, a club formed to honor Dr. Thor Jager's legacy and "to provide a focus for discussions focused on medical history." The event is open to all Wichita doctors; for more information, click here. The next day, on Oct 25th, Cristin will be giving a talk on the life & times of Dr Thomas Dent Mutter to the student body of the University of Wichita School of Medicine. The details are still being finalized, so please click here for the latest updates.
Cristin to Serenbe for an Incredible Evening of Poetry (Oct 17)
Cristin is thrilled to be returning to Serenbe for what promises to be an incredible evening of poetry! From the Serenbe website: "We are bringing to Georgia eight of the nation's top artists who are using speaking as performance. On October 17th, following free daytime performances at South Fulton Libraries, join us for an evening ticketed performance at Cherry Hollow Farm in Chattahoochee Hills, GA. The standing-room-only show will feature a full showcase of all eight performers in the performance hall at the stunning South Fulton venue, Cherry Hollow Farm. Tickets are extremely limited for and will go fast for this special night. Come early to take a peek at the farm. Cash bar will be available. FEATURED ARTISTS: Cristin O'Keefe Aptowicz / Bright Son / Derrick Brown / Ray Christian / Shira Erlichman / Eve Ewing / Anis Mojgani / Dame Wilburn /// TICKETS ARE $25 GENERAL ADMISSION | $20 STUDENTS/SENIORS / GET YOUR TICKETS HERE!/ DOORS AT 7:15PM" For more information, please visit the Serenbe website by clicking here.
Cristin to Perform in LA on July 20th
Cristin is thrilled to be joining old friends Buddy Wakefield and Derrick Brown, along with emerging poets Yesika Salgado and Edwin Bodney in an evening of poetry & performance at LA's Art Share performance space (801 East 4th Place, Los Angeles, CA 90013). The show starts 7pm and the door is just $5. Buying tickets in advance is strongly recommended! For more information, and to snag tickets, please click here.
Cristin joins 200 Poets in THE HARVARD REVIEW's 'Renga for Obama'
Cristin is honored to have been invited by Major Jackson, editor of The Harvard Review to add a verse to their long form, multi-poet "Renga for Obama." Cristin was thrilled to be paired with the legendary Patricia Smith, and their collaborative verse was added to the poem on March 11th. To see Cristin's verse, as well as the full poem, click here.
Cristin's book, DR MUTTER'S MARVELS, is Selected as Shady Side Academy's All School Read
Cristin is thrilled & honored that her latest nonfiction book, the New York Times Best Seller Dr Mutter's Marvels, has been selected by Shady Side Academy as its all school read. Shady Side Academy, located near Pittsburgh, PA, is the alma mater of one of Cristin's literary heroes, historian David McCullough, and Cristin has served as the school's visiting writer for several years. However, with the school's selection of Dr Mutter's Marvels as an all-school read, all SSA students and staff will read the book, and Cristin will be visiting with numerous classes, across numerous disciplines. For more information on this program, please visit the SSA Reading Website here.
Cristin will be Keynote Speaker at Philadelphia Writer's Conference
Cristin is honored to being giving the keynote speech at this year's Philadelphia Writers' Conference, which is America's longest running writers' conference. The conference will take place from June 10th – 12th, and the Keynote Banquet will take place on Saturday Night June 11th. For more information on the conference, including how to join the festivities, please visit there website: http://pwcwriters.org
Cristin's "Dr. Mütter's Marvels: Unmaking Monsters" at SXSW on March 15th
Cristin is thrilled to be returning to SXSW 15 years after her first appearance! From the SXSW website: "Author Cristin O'Keefe Aptowicz gives an illustrated talk on Thomas Dent Mütter, founder of Philadelphia's (in)famous Mütter Museum and subject of her New York Times best selling book Dr Mütter's Marvels. Aptowicz shines a spotlight on the good, the bad and grotesque of 19th century medicine, and on the life of Thomas Dent Mütter, a brilliant surgeon who specialized on performing radical reconstructive surgery on the severely deformed in a time before anesthesia. Mutter was so flamboyant, in life and in the operating theater, that he would be crowned the "P.T. Barnum of the surgery room." Dr Mutter's Marvels was on the New York Times Best Seller list for 3 months, and was named a Best Book of 2014 by NPR, Amazon.com, the UK newspaper The Guardian, and The Onion's AV Club, among other. The Wall Street Journal wrote that Aptowicz "rescues Mütter the man from undeserved obscurity, re-creating his short life and hard times with wit, energy, and gusto… A reminder that the course of human suffering and the progress of medical science are often messy, complex, and stranger than can be imagined."" The event will take place at Tuesday, March 15 at 3:30PM in Room 10AB at the Austin Convention Center. For more information, please visit the SXSW website here.
← Older posts