News
How to Love the Empty Air to be released on March 20th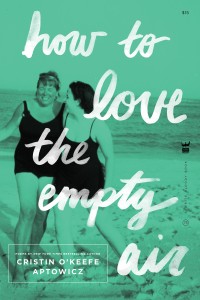 .
Cristin is thrilled to announce the release date of her seventh collection of poetry, How to Love the Empty Air: March 20, 2018th! Cristin will launch the book in LA with her pal & publisher, Derrick Brown! Tour dates will be forthcoming and will events in New York, Austin, Philadelphia, DC, Portland, Seattle, and Chicago, among other cities! Stay tuned for more details, but in the meantime, please feel free to preorder a signed & personalized copy of How to Love the Empty Air at Cristin's local independent bookstore, Austin's amazing Bookpeople
Cristin to Give Mutter Talks at University of Kansas School of Medicine (Oct 24 – 25)
Cristin is thrilled to making her Kansas debut this October. On October 24th, she'll be the keynote speaker at the 50th Anniversary Dinner of the Jager Club, a club formed to honor Dr. Thor Jager's legacy and "to provide a focus for discussions focused on medical history." The event is open to all Wichita doctors; for more information, click here. The next day, on Oct 25th, Cristin will be giving a talk on the life & times of Dr Thomas Dent Mutter to the student body of the University of Wichita School of Medicine. The details are still being finalized, so please click here for the latest updates.
Cristin to Serenbe for an Incredible Evening of Poetry (Oct 17)
Cristin is thrilled to be returning to Serenbe for what promises to be an incredible evening of poetry! From the Serenbe website: "We are bringing to Georgia eight of the nation's top artists who are using speaking as performance. On October 17th, following free daytime performances at South Fulton Libraries, join us for an evening ticketed performance at Cherry Hollow Farm in Chattahoochee Hills, GA. The standing-room-only show will feature a full showcase of all eight performers in the performance hall at the stunning South Fulton venue, Cherry Hollow Farm. Tickets are extremely limited for and will go fast for this special night. Come early to take a peek at the farm. Cash bar will be available. FEATURED ARTISTS: Cristin O'Keefe Aptowicz / Bright Son / Derrick Brown / Ray Christian / Shira Erlichman / Eve Ewing / Anis Mojgani / Dame Wilburn /// TICKETS ARE $25 GENERAL ADMISSION | $20 STUDENTS/SENIORS / GET YOUR TICKETS HERE!/ DOORS AT 7:15PM" For more information, please visit the Serenbe website by clicking here.
Cristin to Perform in LA on July 20th
Cristin is thrilled to be joining old friends Buddy Wakefield and Derrick Brown, along with emerging poets Yesika Salgado and Edwin Bodney in an evening of poetry & performance at LA's Art Share performance space (801 East 4th Place, Los Angeles, CA 90013). The show starts 7pm and the door is just $5. Buying tickets in advance is strongly recommended! For more information, and to snag tickets, please click here.
Cristin joins 200 Poets in THE HARVARD REVIEW's 'Renga for Obama'
Cristin is honored to have been invited by Major Jackson, editor of The Harvard Review to add a verse to their long form, multi-poet "Renga for Obama." Cristin was thrilled to be paired with the legendary Patricia Smith, and their collaborative verse was added to the poem on March 11th. To see Cristin's verse, as well as the full poem, click here.
Cristin & old friend Taylor Mali to perform in Sheen Center's "The Art of the Duo" series (Oct 6)
From The Sheen Center website: "Two veteran performance poets go back and forth, poem for poem, in celebration of their longtime friendship. When Taylor Mali and Cristin O'Keefe Aptowicz first met at a poetry slam in Chelsea in 1998, he was middle school teacher who wrote poetry on the side and she was a 19-year-old NYU screenwriting student. Neither would have guessed it would be the beginning of a nearly two-decade long friendship or that that between them they would write nine books of poetry, three books of nonfiction, win four National Poetry Slam championships, perform their work in venues around the globe, and amass over 20 million views on YouTube for their poetry. On Oct 6th, Mali and Aptowicz will celebrate their long fruitful partnership with an evening of poetry." For more information (and to snag tickets while they last), please visit The Sheen Center website by clicking HERE.
Cristin, Derrick Brown & Anis Mojgani perform at Serenbe (Sept 24)
Marking the halfway point in their two week residency at Serenbe, Cristin, Anis Mojgani and Derrick Brown (collectively known as The Gentleman Bosses) will give a performance at The Oak Room at The Inn at Serenbe
(10950 Hutchesons Ferry Road Palmetto, GA, 30268). The event, which is open to the public, will take place on
Saturday, September 24, 2016, from 8:00pm 10:00pm. For more information, click here.
Anis Mojgani, Derrick Brown & Cristin O'Keefe Aptowicz to Perform at Eddie's Attic in Decatur, GA (Sept 21)
Cristin teams up again with her pals Anis Mojgani and Derrick Brown for a very special evening of poetry and performances at Eddie's Attic (515 N McDonough St, Decatur, GA 30030) on September 21. The show will start at 7:30pm and feature an eclectic array of poetic mischief spawned by the trio known as The Gentleman Bosses. For more information, please see the Eddie's Attic's website here: http://eddiesattic.com/
The Gentleman Bosses (Derrick Brown, Anis Mojgani & Cristin O'Keefe Aptowicz) Granted Two Week Artist Residency at Serenbe (Sept 18 – Oct 2)
From the SERENBE website: "The Gentlemen Bosses is a writing collective formed in 2012 and consisting of writers Cristin O'Keefe Aptowicz, Anis Mojgani and Derrick Brown, a trio of award-winning, internationally touring poets who are joined in their commitment to creating engaging, freshly modern work that is powerful on the stage as well as on the page. AIR Serenbe is pleased to support the Gentlemen Bosses for a 2016 Project Residency: two weeks of time and space to collaborate, experiment, and share new work with new audiences." AIR Serenbe is a unit of The Serenbe Institute. We seek to fuse art and cultural content to further The Serenbe Institute's mission to explore, embrace and expand the connection between nature, culture and the art of living. Since 2007, AIR Serenbe has championed the creative process by providing artists with uninterrupted time and space and a welcoming community in which to create. To learn more, please visit the Serenbe website here: http://www.airserenbe.com/
Cristin Interviewed for KTEP's PERSPECTIVES
From the KTEP website: "Dr. Thomas Dent Mütter was born at a time doctors rarely washed their hands or used anesthesia. In the bestselling book DR. MÜTTER'S MARVELS: A True Tale of Intrigue and Innovation at the Dawn of Modern Medicine, Cristin O'Keefe Aptowicz explores the previously untold life story of this young, handsome and ambitiously brilliant surgeon whose talents in the operating room and lectures halls were unrivaled in his lifetime. Aired Aug. 28, 2016." To listen to the interviews, click here: http://ktep.org/post/perspectives-dr-m-tters-marvels.
← Older posts