Poet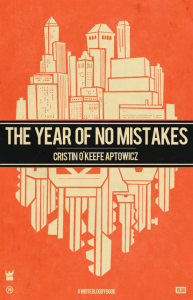 Intimate, observant, and unflinchingly honest, The Year of No Mistakes is Cristin O'Keefe Aptowicz's tribute to the broken heart. Her sixth poetry collection chronicles the author's life as she leaves New York City, her home of fourteen years, and bears witness to the unraveling of Aptowicz's decade-long relationship. Along the way, she explores love, nostalgia, grief, desire, envy and hope in poems that showcase her emblematic funny and heartbreaking style. Stripped down and open, this collection continues Aptowicz's tradition of engaging and autobiographical work with new favorites like "Op Ed for the Sad Sack Review," "Not Doing Something Wrong isn't the Same as Doing Something Right," and "December." For a poet already known for her honesty, The Year of No Mistakes shines with beautiful vulnerability. It is a brave triumph that will push even the most stubbornly busted heart back into the light.
Buy The Year of No Mistakes now from the Write Bloody Store, Amazon or from any of your local (hopefully independent) booksellers.
To LISTEN to NPR's STATE OF THE RE:UNION's segment on THE YEAR OF NO MISTAKES by clicking here.
Click the links to read reviews of Everything is Everything