Non-Fiction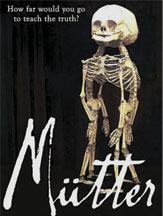 Gotham Goes to the Doctor
Poet and 2011 NEA Fellowship recipient Cristin O'Keefe Aptowicz sold a book about a man considered one of the fathers of modern medicine, Dr. Thomas Dent Mütter, to Charlie Conrad at Gotham. Foundry Literary + Media's Yfat Reiss Gendell sold world rights to the book, called Curiosity, at auction. Mütter, who died in 1859, was a renowned surgeon and lecturer, and his vast collection of medical specimens, which he donated to the College of Physicians of Philadelphia (CPP) in 1856, today makes up Philadelphia's Mütter Museum of medical oddities. Aptowicz, whose previous books include 2008's Words in Your Face: A Guided Tour Through Twenty Years of the New York City Poetry Slam (Soft Skull Press), wrote a screenplay about Mütter that, in 2004, earned her a Sloan Foundation Fellowship from the Hampton International Film Festival. (The screenplay remains unproduced.) The Mütter Museum, Foundry noted, is the country's most popular science museum among those between the ages of 25–35.

-Publishers Weekly, April 15, 2013
Cristin is thrilled to announce that her second nonfiction book, Dr Mutter's Marvels: Thomas Dent Mutter and the Dawn of Modern Medicine, will be published in Fall 2014 by Gotham Books (Penguin). Please stay tuned for more release information, including tour dates, dates for the Dr Mutter's Marvels-based exhibition at the Mutter Museum and the big release party at the Mutter Museum itself.
The book is the result of over a decade's worth of original research, including her time as the 2010-2011 ArtsEdge Writer-in-Residency at the University of Pennsylvania.
An outspoken and eccentric young surgeon who worked in pre-Civil War America, Mütter revolutionized the art of surgery and helped to change people's perceptions – both in his field and with the general public – on numerous controversial topics of his time, including the treatment of the severely deformed, who were often ostracized as "monsters" by their communities. His substantial collection of unusual medical specimens became the basis of his namesake museum, which is still used by medical students today as well as having become a popular cult destination for Philadelphia tourists.
In addition to the University of Pennsylvania appointment, the Mütter Museum has also granted Aptowicz full access to their museum, library and archives for the duration of the residency so that she may conduct her research for the book. The Mütter Museum's Francis C. Wood Institute for the History of Medicine has additionally awarded Aptowicz with a Wood Institute Travel Grant to help further fund and support her work on this project.
Previously, Aptowicz penned the non-fiction screenplay about Thomas Dent Mütter. Mütter (the screenplay) would go on to win the 2003 "Set In Philadelphia" Screenwriting Award at the Philadelphia Film Festival and a Sloan Foundation Fellowship at the 2004 Hampton International Film Festival. To view the film short based on Cristin's Mütter script, please click here