Non-Fiction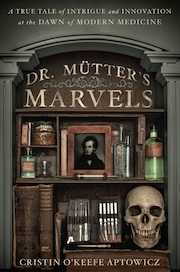 The mesmerizing, first-ever biography of the brilliant and eccentric physician and innovator who revolutionized surgery and founded America's finest museum of medical oddities

Read its starred Kirkus review here!
Read its starred Publishers Weekly review here!
Dr. Mütter's Marvels is available for sale NOW!
Amazon
Barnes & Noble
Books a Million
IndieBound
iBookstore
In Dr. Mütter's Marvels: A True Tale of Intrigue and Innovation at the Dawn of Modern Medicine, author Cristin O'Keefe Aptowicz chronicles the remarkable life of Dr. Thomas Dent Mütter (1811-1859): a dazzling, young American surgeon who was so flamboyant and audacious that he wore colorful silk suits to perform surgery, embellished his last name with an umlaut, and was described as the "[P.T.] Barnum of the surgery room."
Rising to the challenges of performing surgery on the severely deformed while they remained awake (as was the standard practice) — and when others viewed them as only as "monsters" — Mütter was a revolutionary figure whose compassion-based philosophies and innovative surgical ideas and breakthroughs clashed with the constraints of his time. The vast collection of medical oddities he amassed to serve as teaching tools for his enormously popular lectures as a professor of medicine would later become the foundation for one of the most (in)famous museums in the world: Philadelphia's Mütter Museum.
From Mütter's childhood as an orphan in the Antebellum South and his years spent studying radically avant-garde plastic surgery in Paris, to his struggles to establish himself in the medical mecca of Philadelphia and the tumultuous rivalries among his fellow doctors, many of whom publically mocked Mütter's philosophies and procedures, Dr. Mütter's Marvels delves deep into the life and career of a man who was truly ahead of his time.
Through Mütter's humanist eyes, we are given a front row seat to the evolution of American medicine: bleedings and leechings and surgeries performed on fully conscious patients; the standardization of medical schools and the institution of pre-and post-operative care; the discovery of anesthesia and the medical community's frustrating resistance to the anti-sepsis practices of washing hands and sterilizing tools; the unimaginable medical cases resulting from the rise of industrialism; the harrowing challenges women faced, both as largely mistreated and misunderstood patients and as aspiring doctors striving to be seen as equals; all set against the calamitous backdrop of a country marching toward The Civil War.
Based on more than fifteen years of research including full access to the extensive archives of the Mütter Museum, Dr. Mütter's Marvels is suffused with fascinating period detail and compelling narrative. Illustrated with more than seventy startling images (some never before seen), this is the never-been-told-before true story of a dramatic turning point in American medicine through the journey and influence of one extraordinary man.
Cristin will be touring the US behind the book in 2014 & 2015. Please check the Dr. Mütter's Marvels events page often to see if Cristin is coming to a bookstore near you! If you are a bookstore & would like to request that Cristin do a reading w/ you, please contact Lindsay Gordon at Gotham Books at LGordon@penguinrandomhouse.com
Cristin O'Keefe Aptowicz was born and raised in Philadelphia, and first visited the Mütter Museum during a class trip in the fourth grade. A decade and half later, her feature-length biographical screenplay, Mütter, won screenwriting awards at the Hampton International Film Festival and Philadelphia Film Festival, and earned her a Alfred P. Sloan Fellowship, directly inspiring her to research and write this book. She is the author of six books of poetry, most recently The Year of No Mistakes, as well as the nonfiction book, Words in Your Face: A Guided Tour Through Twenty Years of the New York City Poetry Slam. Her recent awards include a National Endowment for the Arts Literature Fellowship, the ArtsEdge Writer-in-Residency at the University of Pennsylvania and the Amy Clampitt House residency. She lives in Austin, TX.