Non-Fiction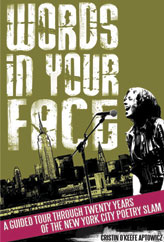 The first definitive history of one of the 21st century's most explosive art movements, Words In Your Face explores the birth, growing pains and continuing development of the Poetry Slam — a raucous poetry event that has been called "a popular culture phenomenon" (Roger Ebert, Chicago Sun Times), "the death of Art" (Harold Bloom, The Paris Review), and has been blamed for making "poetry sexy again in a way it hasn't been since the heyday of the Bears" (Stephen Holden, The New York Times).
Spoken word icons such as Saul Williams, Maggie Estep, Bob Holman and John S. Hall join scores of other poets, organizers, filmmakers, scholars and critics in bring the story of the New York City Poetry Slam movement to life. From its origins in the roofless, unheated Nuyorican Poets Cafe and its mid-90s rise in the pop culture ranks thanks to MTV and Lollapalooza, to its fresh successes on stage and small screen thanks to Russell Simmons' Def Poetry projects and its devoted following among youth poets, queers poets and poets of color, the Poetry Slam is analyzed, idealized and criticized, all from a uniquely New York perspective.
Without question, Poetry Slams have altered the culture landscape of poetry in America, and Words In Your Face offers an insider view of how the New York City poetry community took a simple concept — giving scores to poetry — and helped to forever revolutionize how America views poetry and how poets view themselves.
U.S. Poet Laureate Billy Collins wrote that Words In Your Face "leaves no doubt that the slam poetry scene has achieved legitimacy and taken its rightful place on the map of contemporary literature" and the Washington Post named it as one of the top books for Exploring Poetry in 2008.
WATCH Cristin perform the preface to Words In Your Face at its book release party at the Bowery Poetry Club.
LISTEN to the nine-part IndieFeed Performance Poetry Podcast series celebrating Words In Your Face by clicking here.
READ read reviews of Words In Your Face by clicking on the publication titles below:
Library Journal
School Library Journal
City Limits
Galatea Resurrects (review by Nathan Logan)
Galatea Resurrects (review by Michael Heath)
Words In Your Face can be purchased at the Soft Skull Press website, at Amazon or any at your favorite local (hopefully independent) bookstore!